We offer several types of of Modern Trade Show Booths & Displays including custom aluminum extrusion displays, aluminum extrusion kit displays, and two different types of modern truss.  All of these displays are fabricated with a modern look and appeal to attract attention at your show.  Custom Displays are available upon request to meet your specific needs.  Please contact us with your requirements!
Let's Design Your Modern Trade Show Display!
What type of a Modern Display are you looking for?
Our Custom Aluminum Extrusion displays are custom designed and fabricated with unlimited possibilities.  Curves, large graphics, slatwall, shelving, backlit graphics, and workstations are some of the many customization's available!
Our Slatwall Displays are custom designed and fabricated using our extrusion system with slatwall panels.  A perfect solution for exhibitors needing shelving or slatwall to merchandise product! 
Our FabLite Hybrid Extrusion Kit displays are constructed using a high quality aluminum extrusion combined with high quality SEG graphics to create a stylish and finished look!
Our Platinum Hybrid Extrusion Displays are constructed from a robust 2″ tube frame combined with premium zippered dye-sublimated graphics making it our Premium Hybrid Extrusion Kit display!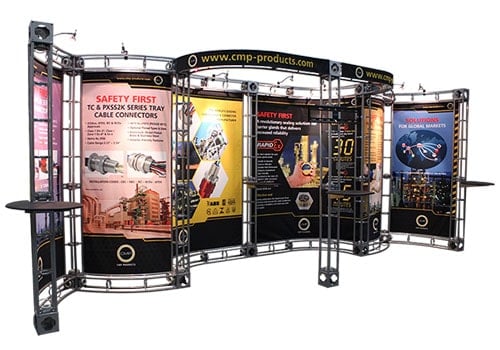 Our Orbital Truss Display Booths provide a modern, professional, and industrial appearance.  Orbital Truss Displays can be fully customized with graphics, shelving, and TV Mounts!
Our InfiniTruss Displays are fully customized and can include graphics, shelves, slatwall, and TV's for presentations!  
Why Choose Infinity Exhibits For Your Trade Show Needs?
We have over two decades of experience in the trade show industry, and we understand what it takes to create successful modern trade show booths. Our team is dedicated to providing clients with top-quality modern display solutions, trade show shelving displays, customer support, and tradeshow booth products, and we always work closely with clients to ensure that their trade show needs are met.
Modern Trade Show Displays FAQs
What is a Trade Show Display?
A trade show display is an element of a company's trade show presence. It can be a shelving display, panel, or other structure that is used to showcase the company's products or services to potential customers. Trade show exhibits are often designed by professional trade show booth design companies and can be very elaborate and expensive. Trade show displays are an important part of any successful trade show strategy.
How Do I know if it's Time to Replace My Modern Trade Show Booth?
It's time to replace your modern trade show booth if it's been used for more than ten years, if the fabric is damaged from being wet or disassembled too many times, or the frame poles are bent. If you're a first-time user of a trade show booth and you want to learn about what options there are for tradeshow booths, Infinity Exhibits can help. We offer custom booths design as well as other services such as graphic fabrication, flooring options, and pop-ups.
What are The 3 Popular Types of Modern Displays at Trade Shows Today?
There are three types of modern tradeshow displays used today: a custom-built exhibit display, modular displays, and rental booths.
Each type of display has its own advantages and disadvantages, so it's important to choose the right one for your business. A custom-built exhibit display is the most expensive, but they offer the most flexibility and can be made to match your exact requirements. Modular displays are cheaper than custom trade show booths, but they are less flexible and can't be tailored to fit your specific needs. Rental displays are the cheapest option, but they are also the least customizable but can still look very professional at an affordable price.
What are Tension Fabric Displays?
Tension fabric displays are a type of portable trade show display that uses tensioned fabric to create a sleek and modern look.  Tension fabric displays are a type of modern trade show booths and they are very popular because they're lightweight and easy to set up. A tension fabric display can be customized to fit any space or theme. Tension fabric can be used for both small and large trade show displays. A tension fabric booth can come in a variety of sizes and shapes. Contact Infinity Exhibits' exceptional customer service team & design team to discuss the right tension fabric booth for your business.
How Much Do Modern Trade Show Booths Cost?
The cost could range greatly from $5,000 to well past $100,000 for a custom modern trade show booth. Infinity Exhibits offers a wide range of trade show related services and prices, so you can find something that fits your budget without sacrificing quality or style. They also have a wide selection of tradeshow booth options for every kind of business, whether you need a custom-built trade show booth or just new branding materials. 
What is a Portable Booth?
Portable trade show displays are smaller and more lightweight than traditional trade show booths. They are easy to set up and takedown, which makes them a popular choice for exhibiting businesses at multiple trade shows throughout the year. Some portable trade show booths can be reconfigured to create different display configurations, while others are limited to a single design.
How Much Display Space Do I Need?
This will depend on the size of your trade show display and the amount of space you need to showcase your products or services. Most exhibitors prefer 10×10 booths or 10×20 displays, but larger spaces are also available. Talk to a representative at Infinity Exhibits to get help planning the perfect exhibit for your business to drive more customers.
How Much Does it Cost to Rent a Modern Trade Show Display?
It can cost anywhere from a few hundred dollars to tens of thousands of dollars to rent a trade show booth, depending on the size and features of the booth. Many companies choose to purchase their own convention display, which can be expensive but can also provide many years of use. Renting a tradeshow booth is often more affordable and allows businesses to try out different booth designs and layouts without making a large investment, which should lead to solid trade show success
How can Exhibiting at a Trade Show Help a Company?
Exhibiting at a trade show with an awesome modern trade show booth can help a company by providing a way to reach new customers and promote products or services. It should definitely be part of your marketing arsenal. It can make a huge difference in helping convert sales. It can also be a way to learn more about the competition, see what new trends are emerging in the industry, and connect with other businesses. Exhibiting at trade shows should be a top priority for a company. With over two decades in the trade show business, Infinity Exhibits designs award-winning trade show displays that will generate clients for you at the next trade show event. You can shop online on our site. We will help maximize your marketing efforts by designing and creating the best trade show displays, exhibits and display products at your next trade show or convention.