Merchandising Trade Show Displays
We specialize in Merchandise Trade Show Displays and offer several types including lightweight shelving/gridwall display systems, custom slatwall booths, aluminum extrusion displays with shelving or slatwall, and lightweight tension fabric merchandise kits for those needing shelving on a budget.  Custom Displays are available upon request to meet your specific needs.  Please contact us with your requirements and a Free Rendering! 
Let's Design Your Merchandise Display!
What type of Merchandise Display are you looking for?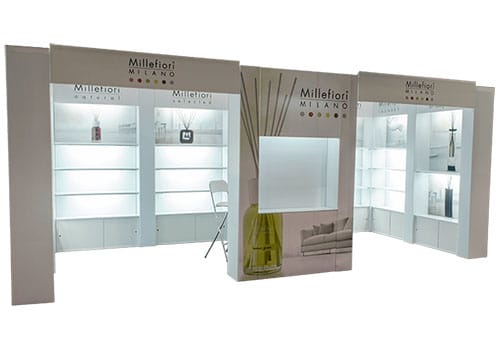 Our Lightweight Shelving/Gridwall displays are an affordable and portable merchandise display solution on a budget!
Our Slatwall Displays are custom designed and fabricated and perfect for exhibitors needing shelving or slatwall to merchandise product! 
Our ModLite Merchandiser Displays are fabricated from aluminum extrusion frames combined with slatwall or shelving for the ultimate merchandise booth!
Our FabLite Merchandiser Displays are tension fabric display that combines shelving and hang-bars for the ultimate lightweight merchandise booth!