We offer several types of 10ft Backlit Display including kits made from aluminum extrusion with SEG press fit graphics, kits made from a tension fabric frame with zippered pillowcase graphics, or hybrid backlit displays which combines elements of both.  Custom Backlit Displays are available upon request to meet your specific needs.   Please contact us with your requirements!
Let's Design Your 10ft Backlit Display!
What type of Backlit Display are you looking for?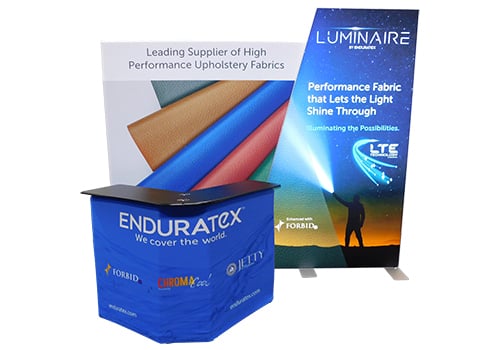 Our 10ft Platinum Backlit Displays are constructed using a mixture of high quality aluminum extrusion light-boxes and tension fabric graphics! Premium backlit displays that bring your brand to life!
Our 10ft FabLite Backlit Display Kits are a backlit portable extrusion system with SEG Press fit graphics on a budget!  Options include a Monitor Mount for presentations!
Our 10ft EconoLite Backlit Kits are extremely affordable and one of the thinnest tension fabric light boxes on the market!
PixLip Go Displays are portable backlit displays made from lightweight ABS plastic extrusion frame.  Extremely lightweight, portable, an no tools needed!
Our 10ft Custom Aluminum Extrusion Backlit displays are custom designed and fabricated with unlimited possibilities.  Curves, large graphics, slatwall, shelving, backlit graphics, and workstations are some of the many customization's available!